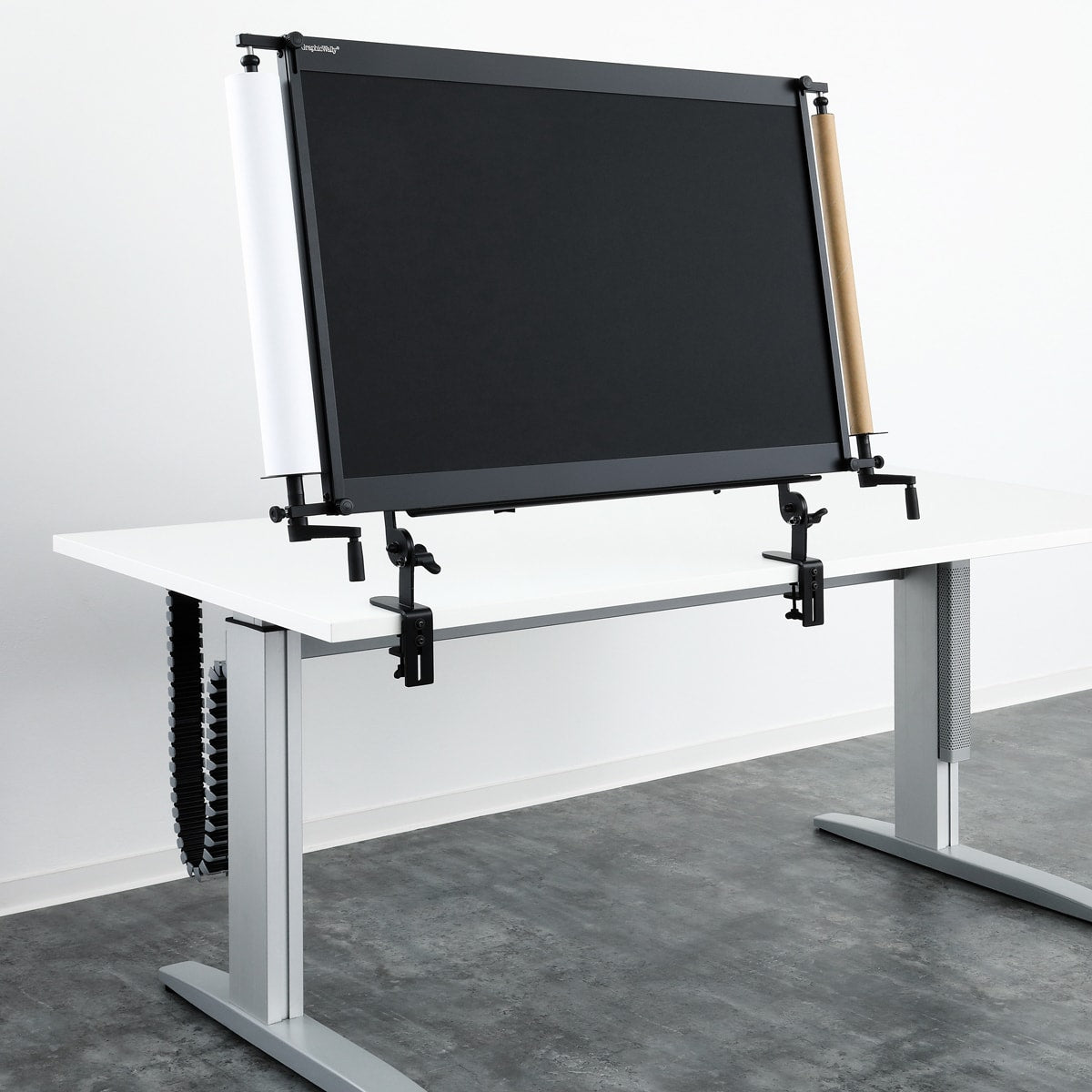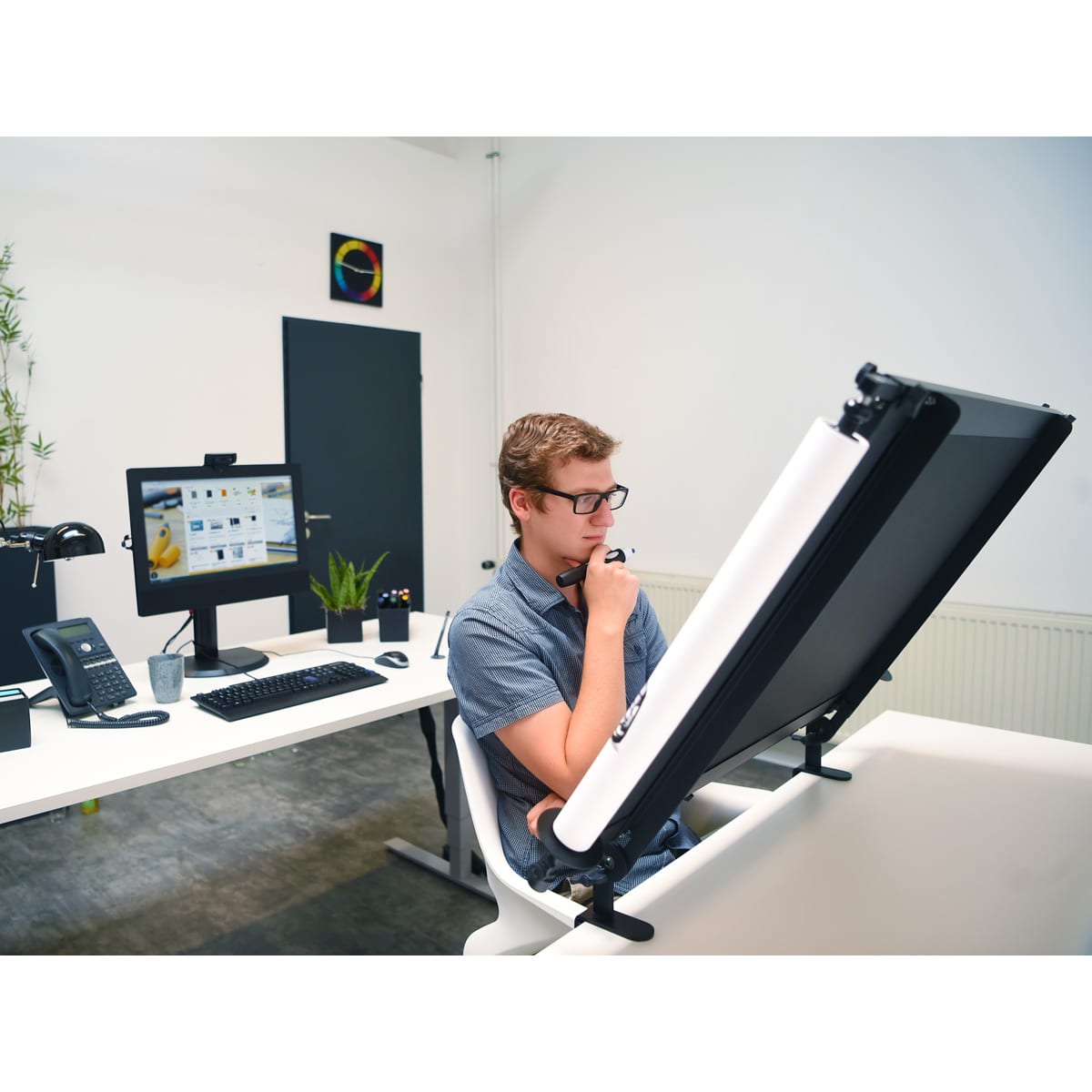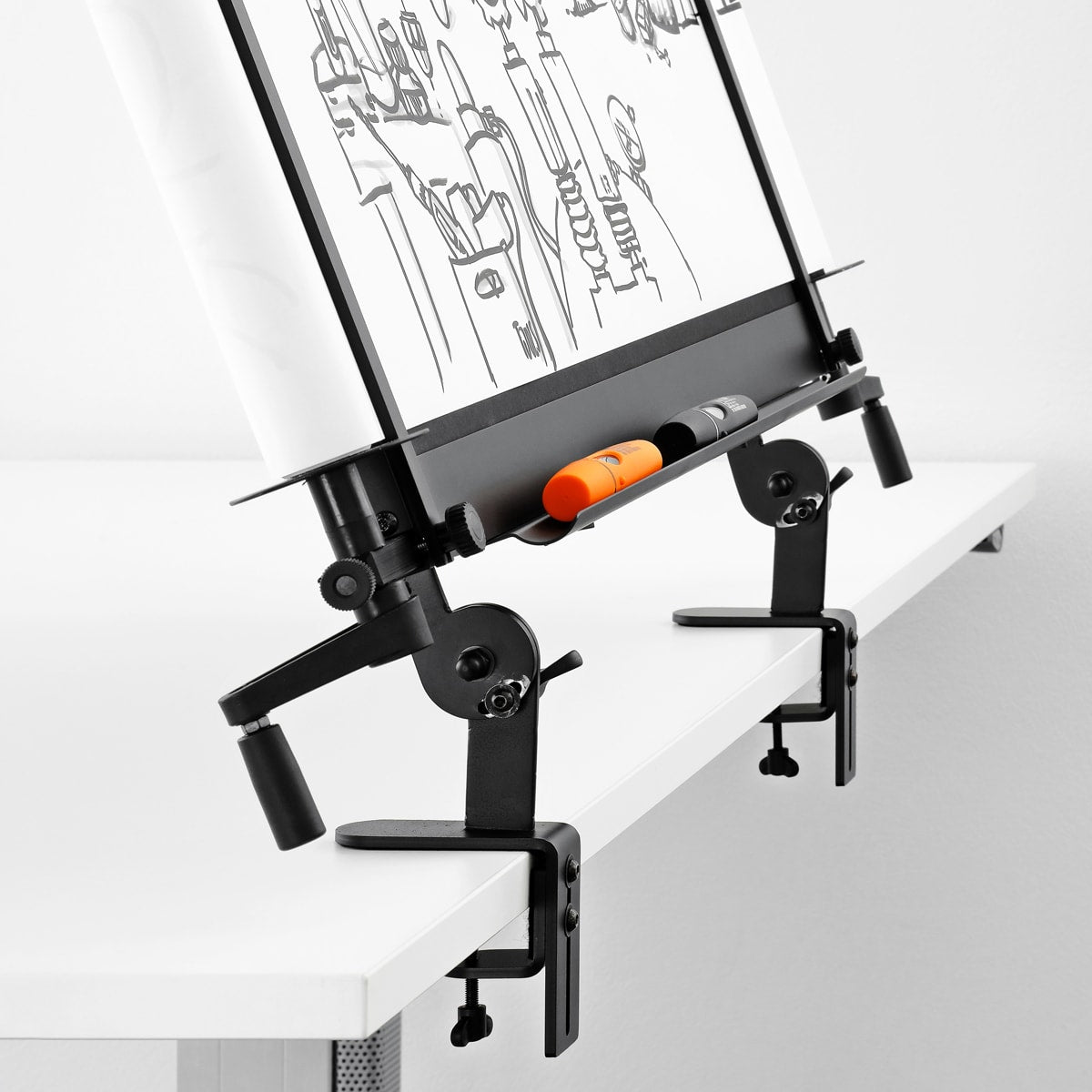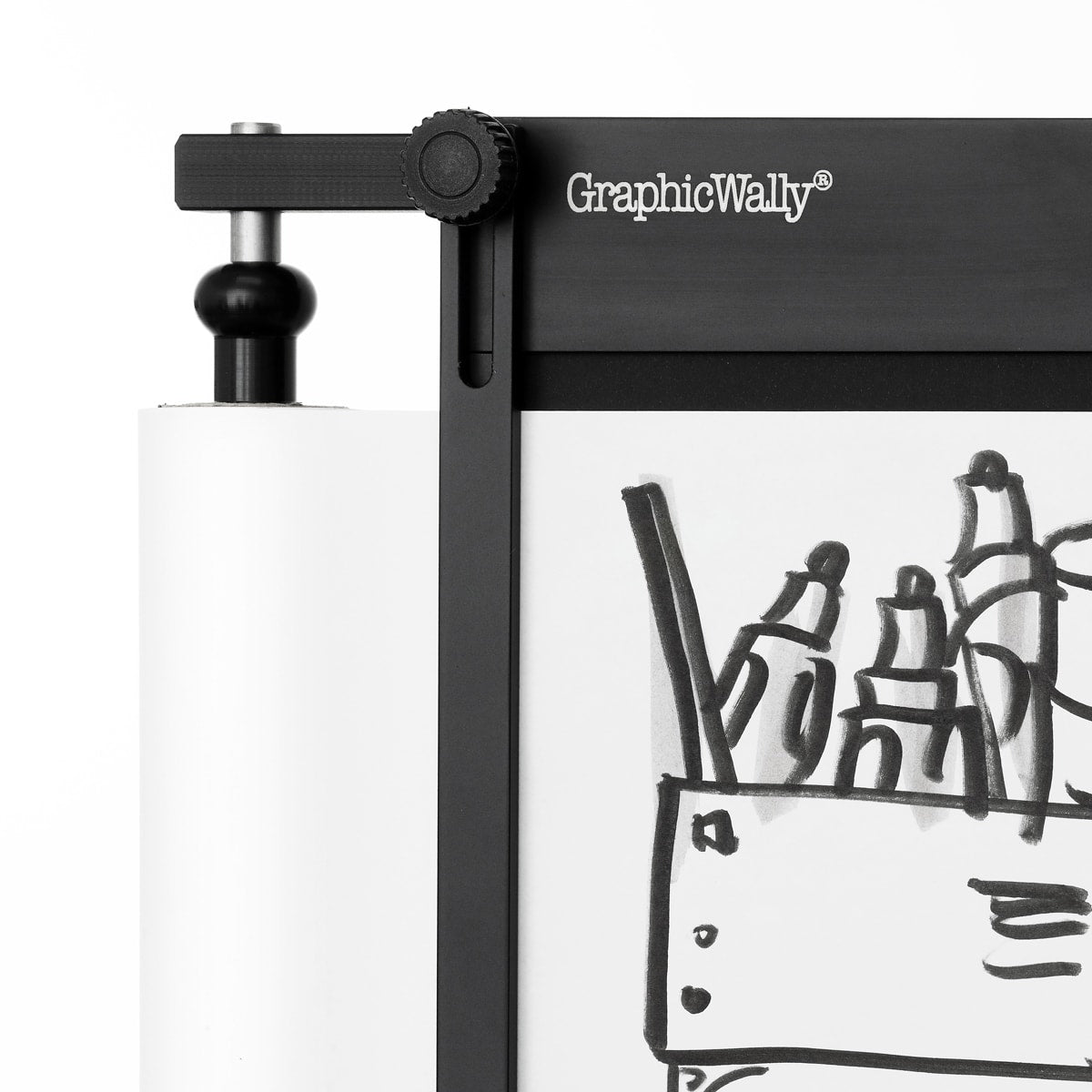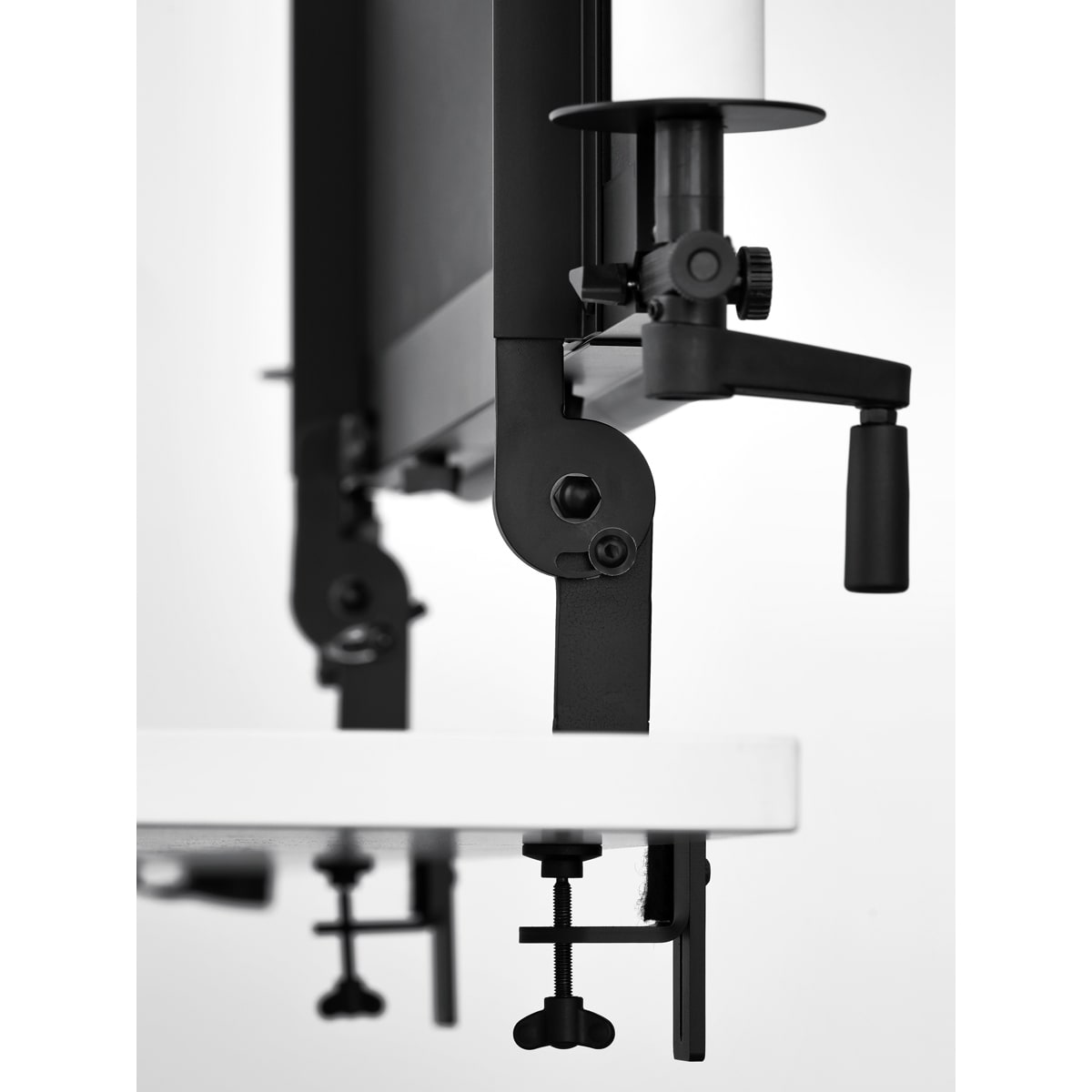 GraphicWally®
Shipping:
Freight shipment
Barcode: 4054477072172
GraphicWally®
GraphicWally® is the perfect board for anyone who loves to draw, brainstorm or work on concepts. It is easy to transport and can be attached to table tops of different thicknesses thanks to the adjustable clamps. With the separately available LiftBoy, GraphicWally® becomes mobile, can be easily moved around the room and continuously adjusted in height.
The white paper roll, with 25 meters of space for creative ideas, can easily be cranked in both directions.
The table inclination can be continuously adjusted between 0° and 45°. This makes it easy to work comfortably. If the creative process is to be documented or presented, the board surface is simply placed vertically and a video camera/webcam can be placed in front of it.
Perfect for real visualizations with markers on paper, also in times of video calls and online-trainings. Ideal for visual thinkers, visual facilitators and graphic recorders, illustrators, project manager …
GraphicWally® can be easily expanded with plug connections. The basic module has a working width of 86.5 cm. The total width including the two rolls is approx. 100 cm. If the expansion module is used, the working width increases to 176 cm.
The clamps of GraphicWally® can withhold between 3 and 5 kg, depending on how tight the clamps were set up at the table.
We tested by pulling from the back. Given that it is even harder to apply such great pressure by pushing with a marker from the front, our Wally is a really stable GraphicWall for your table.
All the favorite markers are waiting for their use in the tray of the GraphicWally®.
So – get started right away!
Scope of delivery:
Crank-mechanism
Tray for marker
25m paper roll
Replacement cardboard tube
Technical specifications:
Frame: powder-coated in S002 black matt
Working surface: black foam board
Work surface W x H: 86 x 52 cm / 33.9 x 20.5 inches
Weight: 6.5 kg (incl. Paper)
The Novario® System is protected under the Utility Patent Law: DGM 20 2020 102 641.0